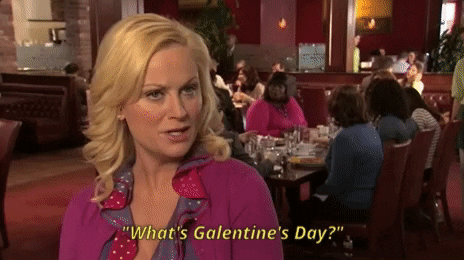 Galentine's Day is one unofficial holiday that I strongly advocate for. It's the perfect excuse to host a party or get-together and you can be as creative (or uncreative!) as you want. It's an unofficial holiday, remember? Anything goes as long as you get your besties together! In case you're not familiar with Galentine's Day (and not a diehard Leslie Knope fan-girl,) let me go ahead and introduce you to this magical holiday and share some ideas for you to create your own Galentine's bash.
What is Galentine's Day?
Basically, Galentine's Day originated a little over 10 years ago in the Parks and Rec TV show, but has caught on as an actual "thing" since then. Falling on February 13th each year, Galentine's Day is all about celebrating the awesome ladies in your life. (I actually think Galentine's Day is a superior holiday to Valentine's Day and this is coming from someone who has been in a committed relationship for six years but that's neither here nor there.) I just love that there's a day dedicated to honoring friendships. And sure we don't need a holiday to get together and express our love for each other, but I think it's awesome to have one anyway!
Cool! How should I celebrate?
The good news is there's no wrong way to celebrate Galentine's Day. It could just be sending cards to all your girlfriends letting them know how awesome they are OR it could be throwing a Galentine's Day bash. Unsurprisingly, I'm a big fan of the latter.
This year, I paid homage to the founder of Galentine's Day, Leslie Knope,with a waffle brunch. Sadly, I don't have actual photos from the brunch (we were too hungry to wait around to take photos.) BUT I'm sharing the Galentine's candy platter and mimosa bar I create (because candy, waffles, and champagne is obviously a winning combination that any nutritionist would approve of.)
In lieu of the usual cheese board that friends have come to expect from me at any gathering I host, I opted for a cookie/candy platter. It was SO fun and easy to put together. The hardest part was narrowing down WHAT to include on the board, there are just too many fun Valentine's themed sweets this time of year
And was it as successful as my cheese boards? The few crumbs remaining when we got through with would indicate yes.

The mimosa cart is pretty self-explanatory (I mean, you can't go wrong with anything mimosa-related.) I created some Galentine's themed labels for the juice carafes, threw on some flowers (courtesy of Trader Joe's,) added a glittery-pink cafe board, and called it a day (an awesome $10 find from HomeGoods!) It was extremely low-fuss and can be re-created a million ways!
There's truly no wrong way to celebrate Galentine's Day. Just find a way to celebrate the amazing ladies in your life – that's what it's all about. (And if you decide to incorporate champagne and candy into your Galentine's Day, I don't think you'll get many complaints.)